Say Something Nice Day
Great job! Way to go! You worked so hard! I appreciate you! Simple phrases that can provide a great impact- be it to your children, spouse, employees, students, or anyone. Positive and encouraging phrases not only impact the person being told, but also those who say it. Think back to the last time you genuinely acknowledged or praised someone for their efforts- it probably made their day, as well as yours. Kind words and acknowledgment have been related to improved productivity in the workplace, increased compliance, and closer relationships.
Why say something nice today? Because today is National Say Something Nice Day! It's a perfect day to make someone's day a little brighter with a kind word, compliment and/or praise. Need ideas? Here are some links to sites that provide great examples of phrases and words to praise others.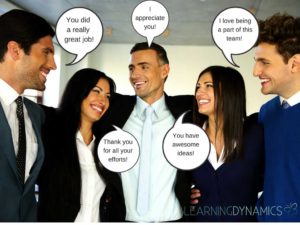 100+ Ways to Praise a Child  http://www.speechtherapygames.com/freebies/waystopraiseachild.pdf
101 Ideas to Motivate, Recognize and Reward Employees That Cost Nothing (or Very Little)…http://www.512solutions.com/sites/default/files/PDF/free-resources/101%20WaystoMotivateRewardRecogniizeEmployees.pdf 
100 compliments ready to deliver right this minute
https://www.happier.com/blog/nice-things-to-say-100-compliments